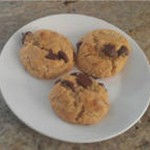 I made these chocolate chip cookies a couple of weeks ago. They were good, but they became a little dried out by the second day. So I tweaked the recipe a bit. This version is gluten-free, delicious, and able to make it to a second day. I have no idea how they'd taste on day 3, since it's impossible for cookies to last that long at my house! This is partly because my 13-year-old daughter declares these cookies even better than the Toll House variety she grew up eating.





Ingredients
2 ½ cups blanched almond flour (I use Honeyville Almond Flour)
½ teaspoon salt
½ teaspoon baking soda
½ cup grapeseed oil (canola oil or butter are also ok)
1 tablespoon vanilla extract
½ cup sweetener (I used brown sugar because I like the flavor it imparts, but brown rice syrup or agave would also be ok)
1 large egg
1 cup chocolate chips
Directions
1. Preheat oven to 350.
2. Combine dry ingredients in a large bowl.
3. Mix wet ingredients in a separate bowl.
4. Pour wet ingredients into dry and mix.
5. Add chocolate chips and blend.
6. For dough into 1″ balls and arrange on cookie sheet lined with parchment paper or silpat. Flatten each ball into a thick disk.
7. Bake at 350 for 7-10 minutes, or until cookies are lightly browned.
8. Cool briefly in pan, then transfer to cooling rack.
Nutrition (per cookie)
Calories: 129
Protein: 2.5g
Fat: 10.5g
Carbohydrates: 8.5g (6g sugar)